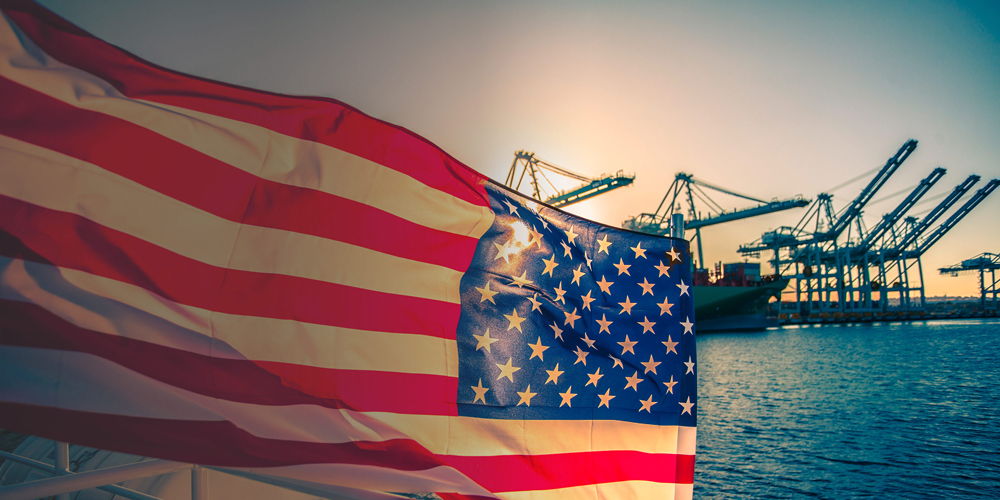 tips for traders
OFAC sanctions: The new compliance framework and 2019 lessons learned
The current US administration often opts for sanctions. But 2019 was particularly busy. OFAC's new compliance framework and a new report deliver valuable tips.
Trader alert: OFAC 2019 sanctions, framework, and report
Renowned international law firm Morrison & Foerster has released the first part of its "OFAC 2019 Year in Review" on February 4, 2020. It delivers valuable summaries and is a good reminder of how the Trump administration's sanctions policy has kept global traders around the world on their toes last year. 
OFAC, of course, is the Office of Foreign Assets Control of the US Department of the Treasury. It is an important regulating body for international export controls – also directly affecting traders across Europe and Asia. To review how US export controls can impact companies outside the US, take a look at these articles:    
Exploring US export controls: Why they matter to you
Urban myths, smart goldfish, and US export controls
As per the new report, 2019 was a tremendously busy year for OFAC. US sanctions are based on US foreign policy and on US national security goals. They also continue to be a primary tool of the current US administration to implement associated measures. As such, 2019 saw a dramatic increase. And it is OFAC that administers and enforces involved economic and trade sanctions.

As a result, not only OFAC had much to do last year: Also companies across the globe had to navigate these shifting sanctions landscapes to ensure trade compliance. The 2019 OFAC review by Morrison & Foerster was published in three parts, including 2019 statistics and developments, 2019 financial institution and non-financial institution enforcement cases, and lessons learned. 
Due to very high relevance for global traders, we would like to emphasize two parts of these comprehensive reviews in particular: The "Framework for OFAC Compliance Commitments" as published under 2019 significant OFAC developments, and the overall top ten lessons learned. 
We have summarized things for you in the two following chapters. If you are interested in reading the published review reports in full, start with part one in the link below and go from there. 
Automating trade compliance directly in your SAP® system
Automate compliance screening and export controls in SAP® – with AEB's self service software. In this live demo in SAP S/4HANA®, AEB experts Matthieu Sonntag and Sebastian Zilm explain the advantages in just 60 minutes. July 29, 9.30 am CET / 8.30 am BST / 16.30 SGT.
Framework for OFAC Compliance Commitments: Overview
This new sanctions compliance framework is especially important because it is the first-ever by OFAC. It was only released on May 2, 2019 – just a year ago. Here is a high-level overview of its scope, components, and aim. 
Firstly, it is important to note: When the framework was released last year, OFAC reiterated that every company's risk-based sanctions compliance program will vary based on its own individual risk factors. Such risk factors can include but are not limited to: 
Company size and sophistication 
Products and services
Customers and counterparties
Geographic locations
Secondly, there are central elements of companies' sanctions compliance programs that apply to all and that can easily be adapted to the individual scope of a specific business or market. In the new OFAC framework, such central elements are characterized as the following five essential components:  
Management commitment
Risk assessment
Internal controls
Testing and auditing
Training
In addition, the OFAC framework also includes practical guidance for companies at the end. A list of common causes of sanctions violations forms part of it. This is aimed at helping businesses evaluate their own compliance programs. It's also a good reminder and key takeaway for global traders: 
US export controls affect traders in Europe and Asia – and compliance is crucial
Review your current compliance programs to align with OFAC's new framework
Any reputable company knows that non-compliance with export control laws never pays off. But in many cases, violations take place unwittingly – though ignorance is no excuse, of course. This new framework is useful for companies to take stock and update their own compliance programs as needed in case of gaps. 
Last to note (in a nutshell) on this framework: OFAC will "consider favorably" effective sanctions compliance programs when resolving enforcement cases. It is safe to assume that vice versa, ineffective programs – or even worse, a possible lack or gross negligence thereof – may be considered "less favorably". 
To see the full OFAC framework in PDF online, you can follow this official link:
"Framework for OFAC Compliance Commitments" by the US Department of the Treasury
Do you need automation for your sanctions compliance program?
If your current export control program does not include automated checks for official US and EU sanctions, embargoes, and license requirements, it is time to act. Depending on your trade relationships and supply chain network, type of products and how they are used, different software solutions may be relevant to you.
OFAC sanctions violations cases: 2019 lessons learned
Before diving into the list of top ten lessons learned from 2019 OFAC enforcement activities, two important facts in the Morrison & Foerster review should be highlighted. They underline the importance of US export control compliance for companies across Europe and Asia: 
Nearly two-thirds – 19 out of 30 – of the enforcement actions that OFAC announced in 2019 were directed at entities that were non-financial institutions 
10 out of 19 of these non-financial institution enforcement actions involved non-US-based companies (including non-US-based subsidiaries or affiliates of US companies)
That's a high share of violations involving non-US companies! 
Experts at Morrison & Foerster agree that a slowdown of OFAC enforcement activities is not expected in 2020. They recommend rigorous compliance programs in line with the Framework for OFAC Compliance Commitments to tackle the challenge.
For companies in Europe and Asia it's a flag to not only regularly review their compliance programs, but to also ensure that latest US export control guidelines are considered. Time to shape up! That's why these lessons learned as part of the published OFAC 2019 reviews offer invaluable tips for global traders.
Look at the 10-point list below – and feel free to pass it to your in-house compliance officer. More guidance is available for each point as part of the published reviews. So, if you would like to deep dive further from there, please refer to the full report.  
List of top 10 OFAC lessons learned: Plus tips for traders

Make sure any submission to OFAC is always accurate and complete
Accurately point out past mistakes
Provide highly detailed responses
Deliver clear and organized data
Comply with OFAC's "Data Delivery Standards"
Provide complete information on the scope and volume of apparent violations
Beware of sectoral sanctions and their timing requirements
Many directives on SSI (OFAC's Sectoral Sanctions Identifications) place restrictions on equity and debt with maturity longer than a certain time period
While these "financial terms" may lead to confusions, it is important to note that the OFAC rules apply to financial institutions and non-financial institutions alike
When in doubt, request a license or authorization from OFAC
Certain cases demonstrate that violative transactions may have been authorized in certain cases and scenarios if a license had been requested 
If uncertain about license or authorization requirements, contact OFAC to double-check 
It's very much worth waiting for their response before acting
Effective sanctions screening must go beyond flagging exact name matches
Recognize upper/lower case spellings, punctuation, and addresses
Identify abbreviated or alternative names
Screen all relevant counterparties
Screen when a relationship is initiated and renewed (and periodically thereafter)
"KYCC" is not just relevant for banks but concerns everyone
KYCC stands for "Know Your Customer's Customer/Counterparty"
Audit and obtain compliance certificates from your sublessees
Audit and obtain certificates from your materials suppliers
Monitor payments from your customer's customer
Assess, monitor, and train your foreign subsidiaries
Audit and monitor foreign subsidiaries
Train, train, train your foreign employees
Conduct pre- and post-merger diligence
OFAC is focused on high-risk industries such as the maritime industry 
Audit your supply (and distribution) chain
Global supply chain networks are complex and complicated – they involve many partners and transactions
2019 OFAC enforcement cases have shown that due diligence on customers and clients is not enough – due diligence is also expected on supply and distribution chains, intermediaries, and other relevant counterparties in today's supply chain networks
Fully understand the scope of OFAC's regulations (including licenses)
A case involving an SDN-designated company (listed on the "Specially Designated Nationals And Blocked Persons List" under OFAC's "Global Terrorism Sanctions Regulations") made it clear that some violative transactions take place under the wrong assumption that an official authorization or license applies
This is the wrong area to be led by assumptions – if you are in doubt what rule or license applies, confirm with OFAC
Focus on the sufficiency of your sanctions compliance programs
Six examples from 2019 cases are showcased with OFAC reference to the importance of companies' effective sanctions compliance programs
Many of these include a direct reference to the "Framework for OFAC Compliance Commitments" and/or measures in line with a risk-based approach mentioned therein
Further useful links for traders on sanctions compliance