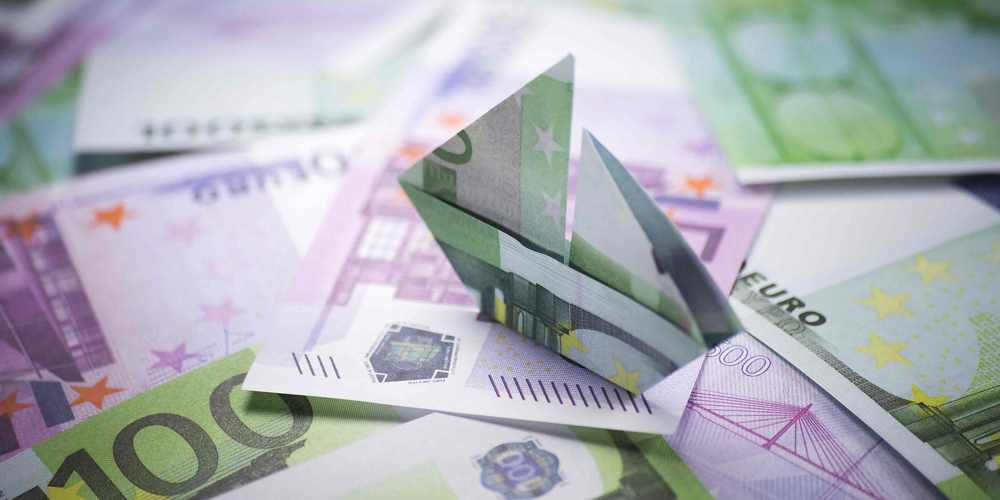 The cost of the last mile
Logistics... by the numbers
What will the delivery of a package cost in the future? What were the three biggest supply chain risks in 2018? This and more in our report on some interesting factoids around logistics, supply chain and global trade.
Transport costs
The average transport costs in trade logistics amount to EUR 1.80 per kilometer. According to a German study, more than half (55 %) of the transport costs are accounted for by personnel, especially drivers. Each driver costs trading companies an average of EUR 43,390.00 per year. Fuel costs account for the second largest share of transport costs at 16%. The costs for truck tolls amount to an average share of only 4 percent. The study cites route-planning systems as the most important measure for reducing transport costs. Cooperation with other dealers or suppliers comes in second place. In- and-out sourcing measures come in third, followed by driver training. 
Learn more about how AEB Transport & Freight Management digitizes all the operational processes in collaboration with your transport service providers.
Transport documentation
About 9 of 10 companies expect benefits from a digital version of transport documents if they were also legally recognized in the future. One in two companies (50%) says that it would help them very much, another 38% say that it would be rather helpful. These are the results of research conducted by the German digital association.
"The obligation to carry freight documents on paper is an anachronism that can no longer be comprehended given the digitization of logistics. Paper documents cost companies and administrations time and money and also pollute the environment," says Julia Miosga, Head of Trade & Logistics at the Bitkom digital association. 
When the trucks drive on the motorways, they not only transport supplies for the supermarket or gearboxes for the car manufacturer, but also a thick pack of paper. This is because the drivers still have to present freight accompanying documents or customs documents in analog form; sometimes entire folders are required. 
Did you know freight invoicing errors are a source of huge additional costs? An average of eight percent of freight invoices contain errors. AEB's Freight Cost Management solves this problem by efficiently checking all your freight invoices at the click of a mouse and identifying any over billing.
E-commerce
The analysis "Last Mile 2028" of the consulting firm Oliver Wyman estimates costs per package at EUR 4.50 in ten years. Currently, the costs are around EUR 2.50 per parcel. The reason for the dramatic increase is the continuing rapid growth in parcel volumes. The number of parcels to be e.g. delivered in Germany will triple by 2028, from 3.5 billion parcels in 2018 to up to nine billion parcels. This also increases the demand for delivery drivers to up to 200,000. In 2018, there were still 90,000 drivers. According to Oliver Wyman's analysis, an increase in hourly wages from currently around EUR 15 to up to EUR 30 is necessary in order to counter the worsening shortage of drivers and make the job more attractive. Rising personnel costs alone will almost double delivery costs per parcel by 2028. 
For an optimal flow of goods in a supply chain, the exchange of data must also run smoothly. AEB's Monitoring & Alerting offers next-generation shipment tracking. The AEB platform does more than just consolidate the tracking data of transport service providers. It also provides the foundation for modern supply chain event management. 

Resilience
The 3 biggest supply chain risks worldwide in 2018 were according to a DHL analysis attributed to three factors: Uncertainties about trade flows, cyber security incidents, and climate change associated with extreme weather conditions. In trade, uncertainty increased due to disputes between the US and other countries – particularly China – over new unilateral import tariffs. Another factor behind the increasing uncertainty is the lack of clarity surrounding Britain's exit from the EU: in the event of a disorderly exit, companies fear congestion at the border and delays at ports. In the area of cyber security, an increasing number of supply chain incidents and transport infrastructure disruptions have shown how keen criminal actors are to obtain trade secrets, blackmail companies, or cause economic disruption. Finally, in 2018, the fourth warmest year since climate data was recorded, climate change caused a host of weather-related disruptions. Forest fires, droughts, low water levels, and melting ice had the greatest impact on supply chains. (DHL)
AEB's Supply Chain Collaboration helps you deal with risks and challenges by working together with all your supply chain partners. The functionalities include continuous bi-directional status exchanges at every level – transport, order, consignment, or the individual item. 
Further education
Only 57% of the companies invest specifically in the further training of their own employees for the digital world of work.
"Digitization is already having a major impact on the working environment and the way people work. When more and more machines, robots, and computers take over activities, IT specialists are not the only ones in demand. Digital skills will then be needed by all employees – even for simpler everyday tasks," says Nils Britze, Bitkom's Digital Business Processes consultant. Given the current generally good order situation, however, many companies have failed to invest in the business and employees of tomorrow.
The trend is as follows: the larger the company, the more frequently it becomes involved in continuing education. Above all, small and medium-sized companies seem to be discovering the urgency of further training in digital matters for their employees: Whereas in 2016 only every second company with 100 to 499 employees took money into their hands for further training in digital skills, today there are already six out of ten companies.